What beadlock is right for my vehicle?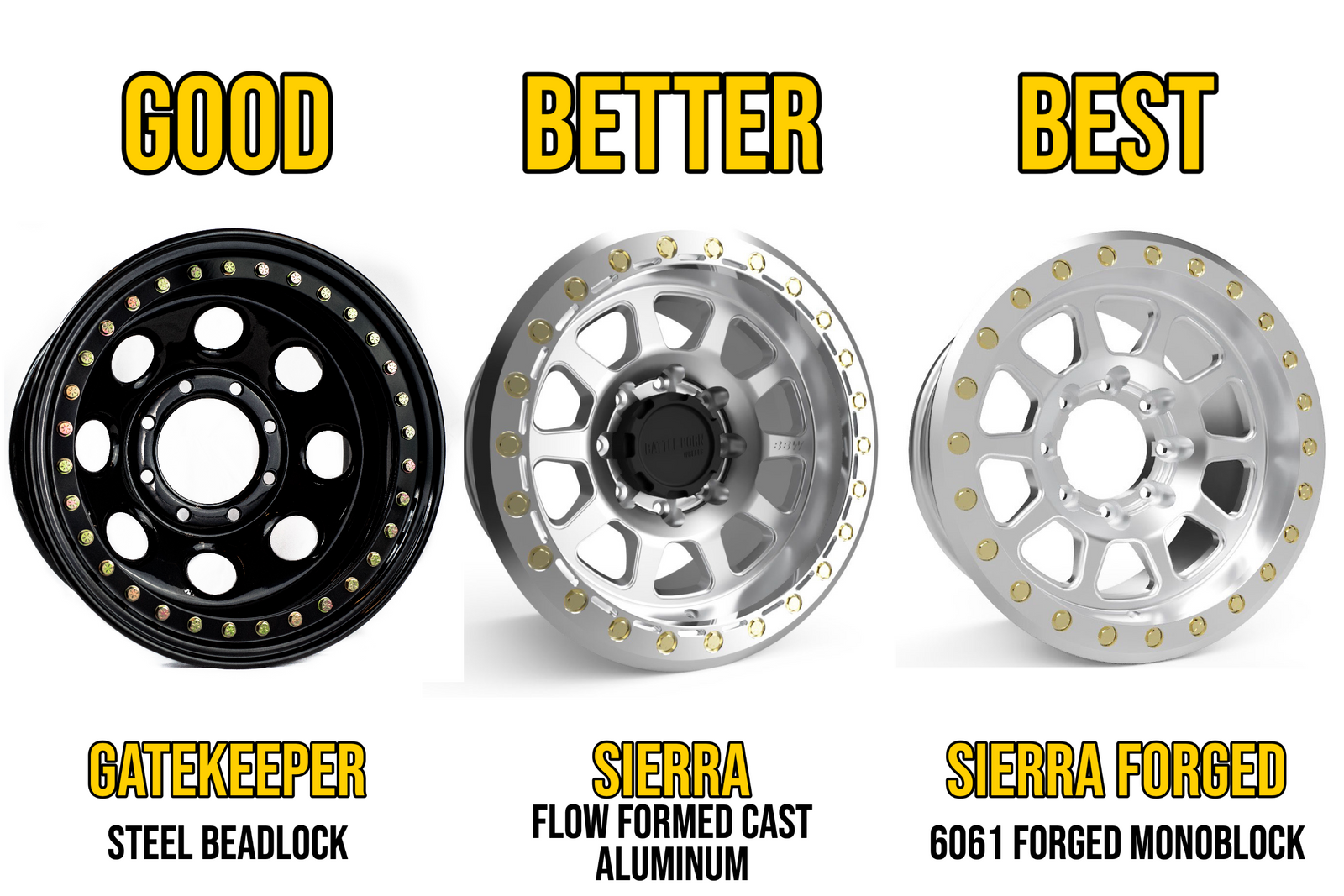 What wheel is right for my application? What are the pros and cons of each wheel? In life, everything is a tradeoff. Same goes for wheels. In this article, I want to do my best to lay out all the different concerns when choosing a new wheel for your ride. 
Our first option to choose from is our Gatekeeper beadlock. This wheel has been around for a long time and for good reasons. It just flat out works and performs as you'd expect from a beadlock. It's a budget friendly steel design offered in many different fitment options. It will get your garage ornament off the jack stands and onto the trail so you can go out and have fun with your friends and family. You can air down to single digit psi and instantly transform the performance of your rig. 
Pros:
Cons:
Budget Friendly
Weight
Classic Design
More Runout than Aluminum

Beadlock Performance

Imported
Deep Backspacing Options (More Poke)
Easier than DIY Beadlocks
Our next option is our brand new design, the Sierra. I've been working in the wheel industry and specifically the offroad wheel industry for 8 years. When I set out to design this wheel, I wanted ZERO compromises. I took everything I wanted and threw it into the Sierra. Starting with the construction, it's a Flow Formed cast aluminum design which is technical jargon for "It's strong as f*ck". We sent these wheels to a lab for SAE and DOT testing and it survived extreme conditions and an excess of 10,000 lbs load! That's almost 3X the acceptable load of most wheels! That means this wheel will perform in any scenario you can dish out. It works for Rockcrawling, Offroad Racing, Prerunning, Overlanding, Towing, anything. Period. We offer it in 17" or 20" fitments and in true beadlock (Offroad) or simulated (DOT) rings. It's the same wheel, you just change out the ring. That means you can run it on your diesel tow rig or switch it over to your trail rig with minor changes. It utilizes steel threaded inserts and 3/8th Grade 8 hardware.
It's simply the best damn cast aluminum beadlock on the market. 
| | |
| --- | --- |
| Pros: | Cons: |
| Flow Formed Aluminum | Cost (Midrange) |
| Extremely Strong | Lead-times for Drilling & Coatings |
| Available in 17" or 20" | Casting Imported |
| Lightweight | |
| CNC Drilled to Order in House | |
| Perfect for Mid to High End Builds | |
| Forged 6061-T6 Rings | |
| Beadlock Ring or Simulated Ring Option | |
| Perfect for New Vehicles and Custom Builds | |
| Great Fitment for Tow Rigs / Diesel Trucks | |
| Weep Holes for Drainage | |
| Steel Threaded Inserts | |
| 3/8" Grade 8 Hardware | |
| Double Drilled & Tapped Beadlock Bolt Holes | |
| Many Fitment Options | |
Last but definitely not least is our Sierra Forged Beadlock. This wheel is 100% USA MADE 6061-T6 Monoblock billet aluminum. It starts its life at a foundry in California where it's forged and lathe turned into our proprietary designed profile. We then take the blank and CNC mill the spokes, bolt pattern, offset, valve stem location, and double drilled and tapped beadlock bolt holes on our state of the art Haas VF3SSYT. We are investing more and more into bringing manufacturing jobs back to the US with our small wheel company. This wheel keeps our dollars in the United States to help our fellow Americans. 
With that being said, this is the best of the best beadlock option for your high end build or race-car. It takes all of its design cues from our Sierra Flow Formed Cast aluminum wheel and goes even further with a better machined finish and larger radius chamfered windows. Forged aluminum is the strongest wheel design available. The metal is compressed and stretched with extreme pressure to our desired shape creating the toughest, lightest wheel possible. 
The best beadlock wheel we offer...
| | |
| --- | --- |
| Pros:  | Cons: |
| USA MADE | Lead-times (Made to Order) |
| Forged Monoblock  | Cost (High End) |
| Extremely Strong | Only in 17x9 |
| Featherweight  | Almost Too Nice... |
| 6061-T6 Forged Beadlock Rings | |
| Perfect for High End Builds | |
| Ultra 4, Trophy Truck & Race Applications | |
| 3/8th Grade 8 Hardware | |
| Double Drilled & Tapped Beadlock Bolt Holes | |
| Custom Options Available | |
| Readily Available Due to US MFG | |
---